One week after being disappointed in Minneapolis, Kirk Zink said his cross-country teams returned to form.
Hillsboro-Central Valley's boys finished third with 114 points and the Burro girls were second with 91 at the Rugby Booster Club Invitational Saturday in Rugby, N.D.
H-CV sophomore Christian Brist took second in the boys 5-kilometer race, finishing in 17:25.40, while freshman Myla Kaldor led the Burros in fourth on the girls side with a time of 20:34.34.
"We didn't run well at (the Roy Griak Invitational), but we had a really good week of practice," Zink said. "The kids ran awfully well."
Brist finished 29 seconds behind New Town junior Colt Spotted Bear but finished ahead of Killdeer senior Owen Duttenhefner, ranked fourth in the state.
"Spotted Bear got out really fast and Christian kind of lost sight of him, but he got into a nice race with Duttenhefner," Zink said.
H-CV junior Henry Nelson took 14th in 18:17.82, which Zink said was one of the best races the Burros runner has had. 
"He's been a spark plug for us the last couple of weeks," the coach said. 
Eighth-grader Niko Zink placed 28th for the Burros in 19:21.85, followed by juniors Jake Wright in 33rd and John Kaldor in 37th.
Kirk Zink said those three have been battling colds for the past couple weeks and didn't have the races they wanted.
"They're just getting over it, but they still ran better than they did at Griak, so it was nice to see," he said.
Junior Simon Mau took 87th to round out H-CV's team.
With Myla Kaldor in fourth, the Burro girls piled three runners into the top 10 at Rugby.
Kaldor was one spot behind Rugby's Brooklyn Bartsch, who won the East Region meet last year and is ranked sixth statewide.
"That's a massive confidence booster for Myla," Zink said. "There are not many girls in North Dakota she can't run with right now."
Eighth-grader Paige Cotton took eighth in 21:20.11, with sophomore Mallory Alfson six seconds back in ninth.
Seventh-grader Lily Kaldor was 32nd in 22:45.15 to finish fourth for H-CV. Eighth-grader Addison Saure rounded out the Burros' scoring in 38th with a time of 23:08.73.
Sophomore Monserrat Garza took 41st, followed by eighth-grader Avery Merck in 48th.
The Burros were set to run at Cooperstown Bible Camp yesterday (Thursday), with all but Brist, Nelson, Alfson and Myla Kaldor expected to compete.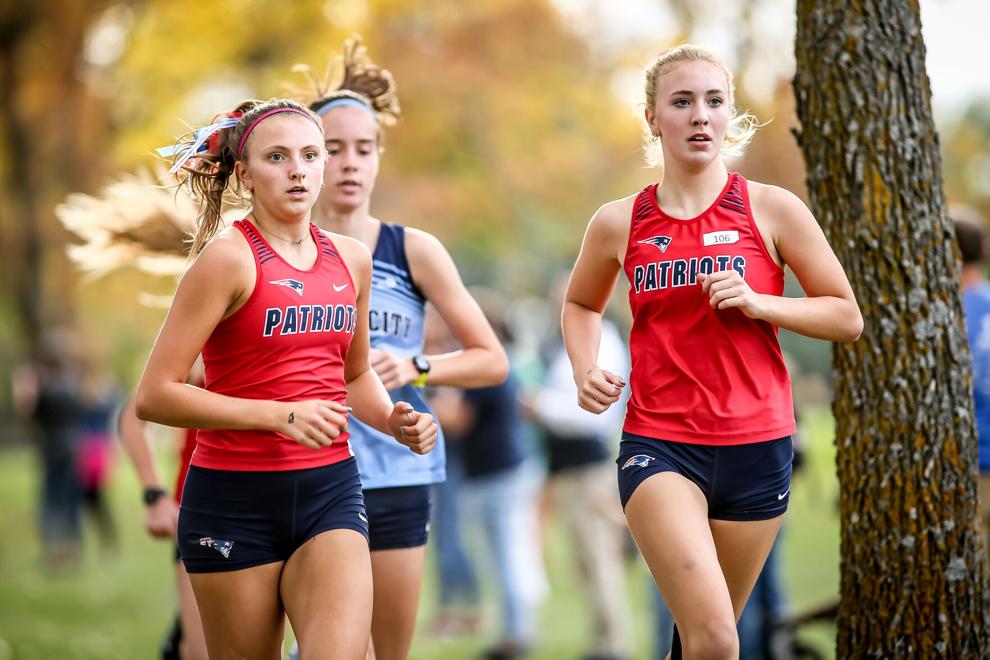 Patriot Senior Day
MayPort-CG had plenty of reason to celebrate at its home cross-country meet Sept. 30.
Senior Tanner Lundwall won the boys 5K race and fellow senior Anna Strand led the Patriots to a team win in the girls varsity race on senior night for the MPCG program.
For Patriots coach Wendy Garrett-Mehus, the results were a tribute to a special group of nine seniors on the MPCG squad.
"It was a tear-jerker," said the coach, whose girls team is ranked second in the state Class B division while Lundwall is No. 8 in the state.
"These kids support each other so much on and off the course," Garrett-Mehus added. "It's a fun group, and they're really good kids, too."
Lundwall crossed the finish in 17:33, edging Griggs-Midkota junior Eli Larson by five seconds.
Garrett-Mehus said Lundwall pulled away late during the final sprint to the finish.
"It was one of his stronger finishes," the coach said. "Sometimes his form can sway at the end, but he kept his composure."
Fellow seniors Carter Garrett and Lucas Peterson finished 18th and 28th, respectively.
Garrett crossed the line in 20:18.1 while Peterson ran in 21:20.31.
Junior Oliver Marquardt finished 32nd and Isaiah Palmer was 52nd. Seventh-grader Mason Garrett took 57th.
MPCG's boys finished sixth as a team with 129 points, one spot behind H-CV with 113.
The Patriots girls squad scored 30 points with Strand finishing fourth overall in a time of 20:30.47.
The senior led a pack of five MPCG runners who finished fourth through eighth in the race, with freshmen Tatum Mehus, Carissa Mueller and Kayla Knudsvig finishing fifth, sixth and seventh, respectively.
Eighth-grader Kiaza Carlson took eighth in 21:47.98.
"They really pack-ran terrifically," Garret-Mehus said. "Carissa, Kayla and Kiaza were trying to push each other and keep the pack going."
Strand's time was a personal record, while Mehus finished in 20:40.74.
Mueller and Knudsvig also had personal bests in 21:38.92 and 21:36.74, respectively.
Freshman Sophie Johnson took 14th with a time of 22:34.9 and seventh-grader Paetyn Strand was 17th in 22:45.3.
Senior Alexis Morowski took 40th in 26:05.97 and seventh-grader Zoey Mehus was 43rd in 26:40.09.
Senior Ila Peterson ran a personal best 28:04.15 to take 52nd. Sophomore Saylar Garrett took 55th.