A longtime downtown business owner and civic leader in Hillsboro who spent more than 50 years volunteering in the community has died.
Ed Olsen, 90, passed away Friday, Jan. 15 at Sanford Hospital in Hillsboro due to complications from COVID-19, according to an obituary prepared by his family.
Friends and colleagues mourned the death of Olsen, recalling stories this week of a fun-loving and faithful family man who worked tirelessly to better the city.
"Ed was one of a kind," said the Rev. Joe Johnson of Our Savior's Lutheran Church in Hillsboro. "He had a playfulness and an excitement to him that extended to everything he did.
"Jobs that the rest of us would see as mundane were exciting and fun to Ed.
"And if we were doing that job with him, it was fun for us, too, because of him."
A native of Wisconsin, Olsen grew up attending a one-room country school near Mason, a small town about an hour southeast of Superior. At age 17, he boarded a train headed for Fargo hoping to find field work in the Red River Valley.
After a time, he landed a job with a farmer near Erie, N.D., west of Arthur, where he met his future wife, Marlis, and the pair married Oct. 4, 1950.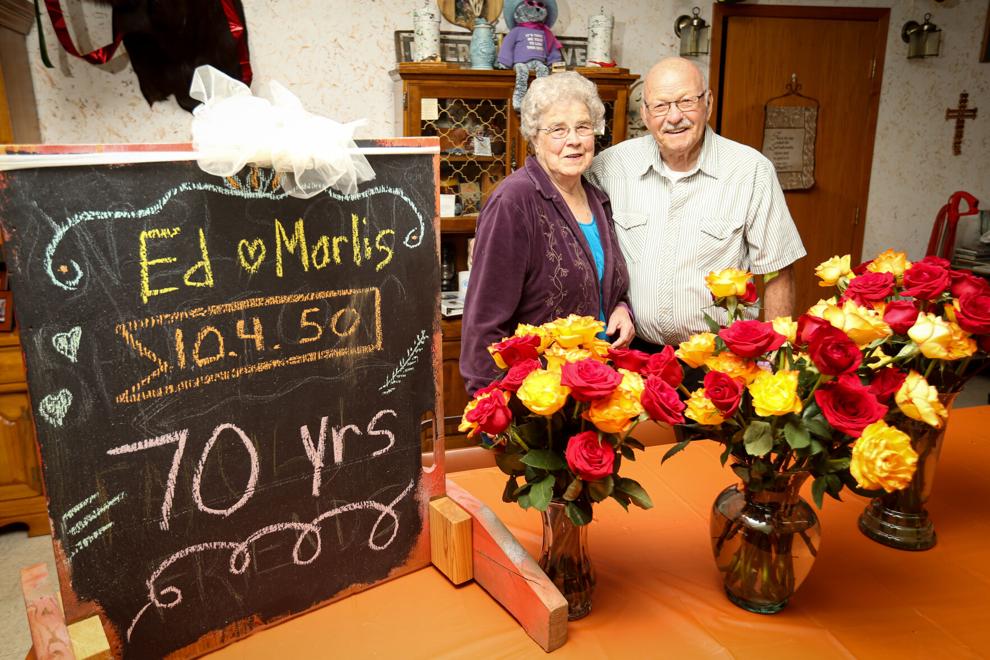 The couple moved to Hillsboro in summer 1963 after Ed was hired to manage Farmers Union Oil.
After six years at Farmers Union, Ed and Marlis in 1969 purchased the former Scheel's Hardware store, which became Olsen Hardware on the corner of Caledonia Avenue and Main Street. The family business celebrated its 50-year anniversary in April 2019.
Despite being a full-time business owner, Ed dedicated his life to serving others in the community.
The Wisconsin transplant helped organize the city's first ambulance squad, volunteered as a firefighter and spent decades on Hillsboro's park board and planning and zoning committees.
Mark Forseth, Hillsboro's former longtime mayor and city auditor, said Ed had an endless amount of knowledge to share with his neighbors.
Ed taught Forseth how to cut down trees after Woodland Park was overrun with Dutch elm disease.
"I don't remember how the discussion got started, but I was a young guy looking for things to do and Ed said 'We're cutting down trees in the park. Why don't you come down?'" Forseth recalled Tuesday.
"My job was to hold the tree and tell him what the tree was doing. After the ninth or 10th tree, he said 'OK, now you do one.' Ed taught me how to drop a tree. I still impress friends to this day with that."
Forseth made hundreds of gallons of gravy with Ed over the years at Our Savior's Lutheran Church meatball dinners and the pair decorated Christmas trees together in Railroad Park along Main Street.
"Ed meant a lot to the city and all the knowledge he shared with everyone is now gone," Forseth said.
"His death is a big loss to the city and it's a big loss to me, personally."
Hillsboro City Commissioner Mike Kress served with Ed on the Hillsboro Park Board and the city's planning and zoning committee for decades.
"Ed was driving force no matter what he did," Kress said. "He probably got paid 20 bucks a month for being on the park board and the time he put into it was unreal."
Kress remembers sitting with Ed in Woodland Park in the evenings assembling playground equipment for Hillsboro's kids to enjoy.
"We did that ourselves every night for weeks for I don't know how many nights," Kress recalled.
"Of course, we probably had a cold one here or there as we were working," he added with a laugh.
Ed cared for a small herd of deer in a fenced-in compound in Woodland Park for 28 years prior to the removal of the animals in 2016 following a directive from state wildlife officials.
A less-dedicated caretaker could have tired of tending to the animals after months on the job.
Ed shuffled into the park every day for nearly three decades to feed the deer.
"I can't imagine anyone else doing that job," said Tim "Teak" Kelley, a Hillsboro Park Board member who served alongside Ed on the board for decades.
"He was out there every morning and night. You never had to worry about them because Ed was taking care of them."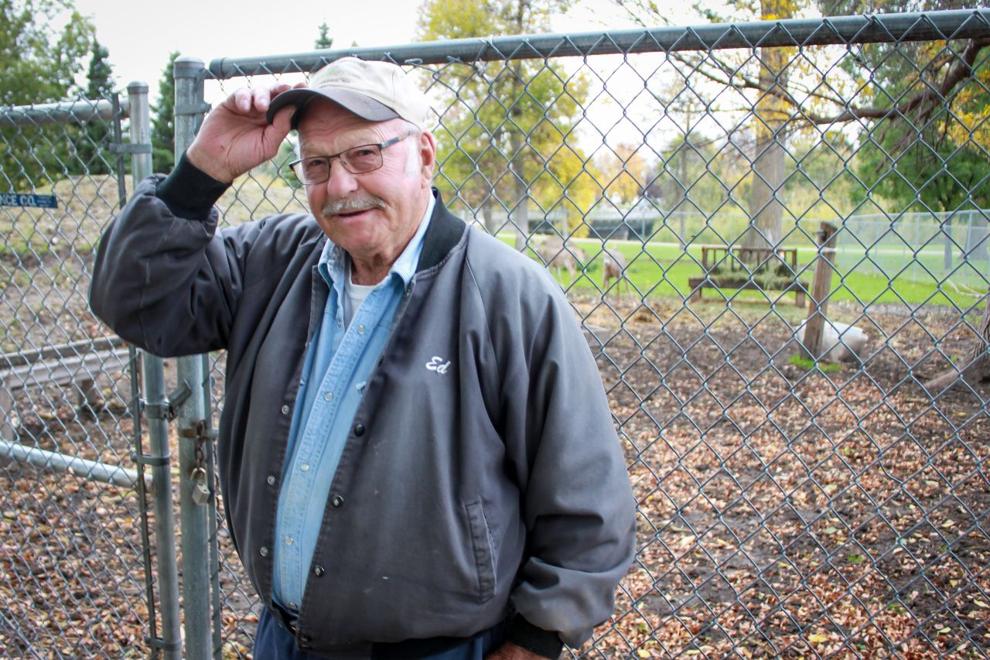 The Hillsboro Park Board renamed the softball fields along Fourth Street Southwest in honor of Ed and Vernon Olsen in September 2013 for their work to build the complex in the early 1980s.
Olsen Softball Complex now serves as home to the Hillsboro-Central Valley Burros softball team and hosts hundreds of T-ball and Little League practices and games every summer.
"We've had so many good tournaments and teams out there over the years," Kelley said. "That's something we lived for when we were younger and something that's meant so much to me.
"But if it weren't for Ed and Vernon working side by side, it wouldn't be here today."
Kelley described Ed as a tireless worker who'd never let down his friends.
"We need a million of that guy," Kelley said. "He was the most caring guy that I've ever known. And if you ever needed help, he would be right there. He was the first one to jump on the horse."
Longtime friend Glen Hultin met Ed while staying at his future in-laws' home in Hillsboro.
Hultin came downstairs after a long night of driving beet truck and found Ed repairing a dishwasher.
"He had the dishwasher pulled out and looked at me and said 'I didn't think anyone was home. Who the hell are you?'" Hultin said with a laugh.
The pair began talking and formed a friendship that lasted 40 years.
Their time spent together included fishing and swapping stories from their youths.
From time to time, Ed would ask Hultin to drive his tractor into Hillsboro to pull down diseased trees in Woodland Park.
"No matter what you were doing, Ed had fun. He could make the hardest work easy," Hultin said.
"Everything he had in life he worked hard for and he was always happy doing it. He never grew old. He loved keeping busy and he was always on the go."
Ed, who was a skilled carpenter, loved to laugh and had a twinkle in his eye, Johnson said.
The Banner featured Ed in a front-page article Oct. 25, 2019 after he revealed he had built his own funeral casket with the help of his daughter, Bonnie Mueller of Hillsboro.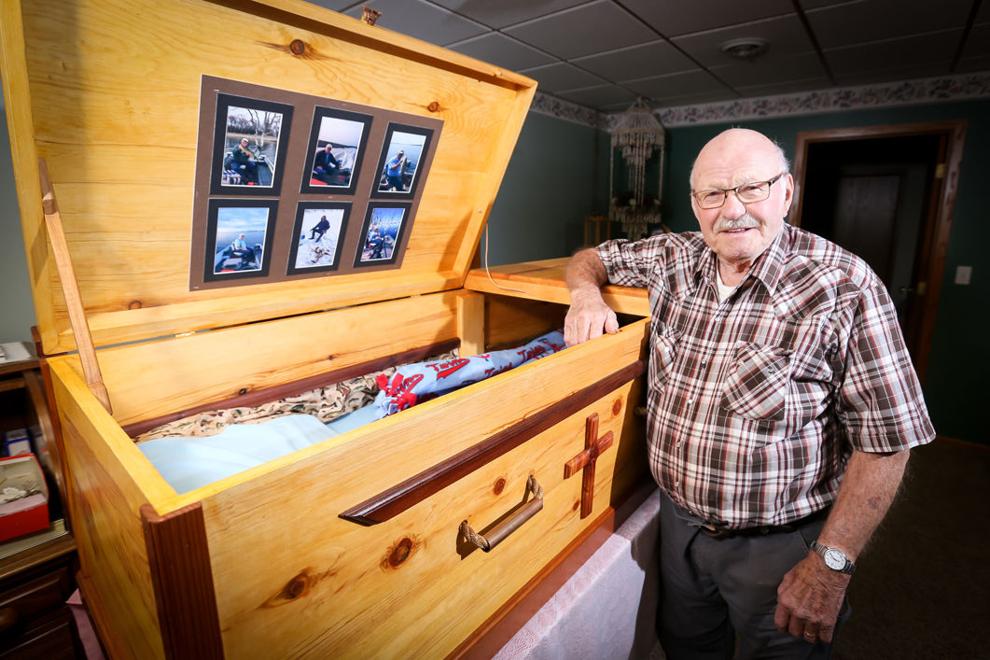 "I like working with wood, so when I sat down to figure out what I wanted to do, I decided I would make myself a box," he told the Banner.
He spruced up the interior of the casket with family photos, a Minnesota Twins blanket and fabric lining that includes a variety of fish found in North Dakota.
Johnson plans to talk about Ed's carpentry and story-telling skills during funeral services Saturday.
"Ed was a craftsman crafted by the hand of God," Johnson said. "He was fun and he was funny. He was always sincere, serious and authentic."
Johnson remembers Ed and friend Dan Christianson of Hillsboro coming to the early-morning grand opening of Our Town Bakery in Hillsboro when Johnson's family owned the business in 2012.
"They sat outside the bakery on a heater for a couple hours before we even opened because they wanted to be our first customers," Johnson said.
Ed, Marlis and their family have been generous contributors to Our Savior's over the years.
A friend of Olsen's, who playfully asked to remain anonymous, said Ed's family donated funds for high quality pancake griddles to the church because "Ed didn't want the Catholics in town to be the only ones with good pancakes."
Asked about the anecdote, Johnson laughed.
"Ed was so community-minded that, for him, it wasn't about competitions between churches but how do we work together," Johnson said. "Ed was always partnering with people and volunteering to help other people, including at the church."
Ed's charisma and community spirit will be missed in Hillsboro, Johnson added.
"He was involved with the deer in the park, the fire department, the church and he was a businessman and an avid fisherman," he said.
"Whether it be how to fell a tree or what it meant to be a man of faith, a family man, a businessman or a volunteer, every one of us had a lesson to learn from Ed Olsen."