Chance Koloch didn't know what to expect when he set up a parade on short notice in Buxton on Thursday, Oct. 7. All the 28-year-old hoped for was to give his grandfather one last smile.
Milo Simonson, a longtime Buxton resident and diesel mechanic with Gowan Construction in Grand Forks, had been facing an uphill battle. Waging a courageous war with kidney cancer for nearly a year and a half, the 68-year-old collapsed in late September while at an immunotherapy treatment.
After a series of tests, specialists determined that his cancer had spread quickly to his brain, lungs and throat, and his health deteriorated quickly.
"Me and my older brother were on a hunting trip when we got the news," Koloch said. "My mom said his time could be up in a few hours.
"That was a couple of weeks ago. He's pretty stubborn."
Knowing his grandpa was likely on borrowed time, Koloch reached out to Buxton and the surrounding communities Oct. 4 with a simple request: give his grandpa one last salute with a classic car parade.
Milo was a car guy his whole life.
He'd previously worked at American Motors Corp., Greyhound and Hansen Ford in Grand Forks.
Koloch knew seeing some vintage vehicles would make Milo's day. 
"I talked to a few guys here and there, and then I posted on Facebook to a couple of those for-sale sites, and it got shared like 150 times," Koloch said.
The community responded as only small towns can. 
On Thursday, Oct. 7, people lined up for blocks in a show of solidarity with Simonson.
Roughly 30 vehicles – fire trucks, vintage pickups, cars and motorcycles – honked, revved engines and burned rubber in front of Simonson's window along Baker Avenue.
One vehicle came from Warren, Minn., nearly an hour northeast of Buxton.
Inside the house, next to his wife, Julie, Milo had no clue what was about to pass by.
But for nearly 15 minutes, he lay propped up in his hospital bed, pointing and waving to the vehicles as they passed. With tears in his eyes, he named the makes and years of the classic cars and trucks as they drove by.
His work vehicle with Gowan Construction, affectionately nicknamed "Myrtle," took part in the parade.
Milo had been with the company for nearly two decades before retiring two and a half years ago.
"He said, 'There she is. We had a lot of work trips together,' and started talking about the time he put into her," said his daughter, Maria Waterworth.
Even more important to Milo were the people driving the vehicles.
Locals turned out in full force to drive by and wave. 
At the tail end of the parade, Milo's grandson, Caden Waterworth, a senior at Central Valley School, rode past on an ATV.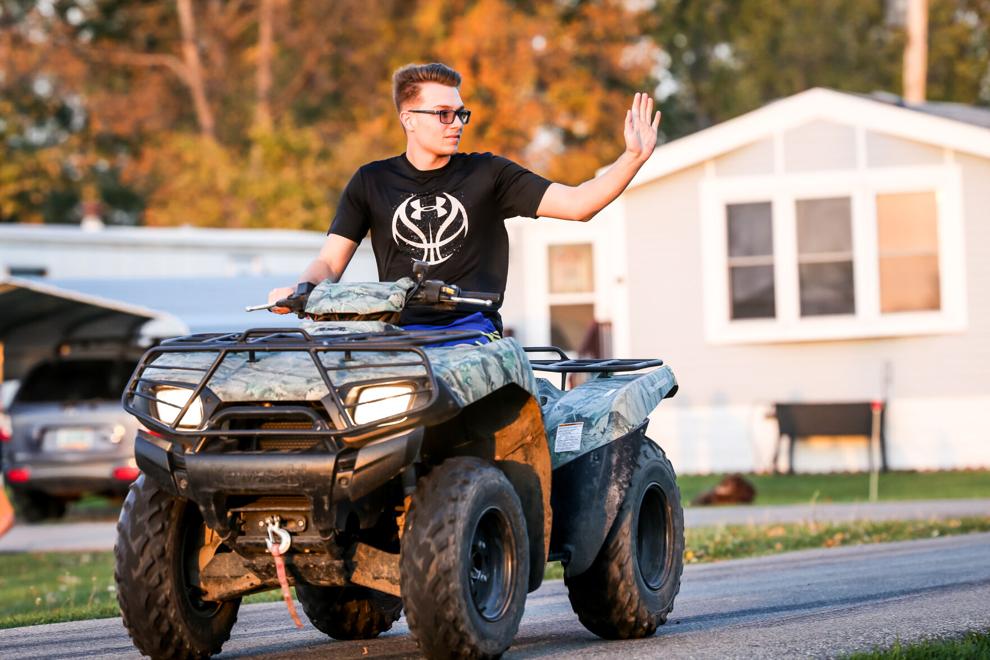 "We knew we needed to send him off with a last act of love," Maria Waterworth said.
"It gave us a bright light in a very dim time."
Two days later, Simonson passed away at home Saturday from complications caused by his cancer. 
He's survived by his wife, four sisters, three children, nine grandchildren and three great-grandchildren. 
A graveside service will be held at 2 p.m. Saturday at Immanuel West Cemetery near Buxton.
The family is still coming to terms with its loss; the speed at which Milo's condition deteriorated took the entire family by surprise over the last three weeks.
But his legacy lives in those who knew him. Simonson was a single father who passed on his mechanic skills to his kids. 
Maria's oldest son, Cody, is a diesel mechanic for a company in Grand Forks, and Koloch worked with him at Gowan Construction for a time. 
Milo's passing has hit the family – particularly his grandkids – hard. 
"I lived with him for a little bit when I was younger, and I've been on the other side of town from him pretty much my whole life, " Koloch said. 
Koloch thanked Buxton and the surrounding areas for rallying to Milo's side during his final days. 
Organizing a parade in four days, he added, couldn't happen without the help of a lot of caring people, the kind who pull together in a small town.
"I appreciate everybody that showed up who gave him that last little bit of love," Koloch said.